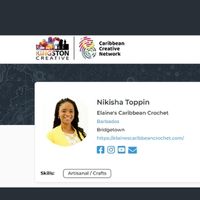 Elaine's Caribbean Crochet continues to pursue opportunities to expand the reach and impact of our social enterprise through connecting with entities passionate about the creative industry.
One such connection that has proved invaluable to Elaine's Caribbean Crochet's development is Kingston Creative, out of Jamaica.
Kingston Creative has recently launched the Caribbean Creative Network. This online, publicly searchable platform will allow creatives to be more easily found online. Each artist will have a profile which will include artistic bio, a picture of their work, a profile picture, and contact information. The intention is to create a space for creatives to find each other, for potential buyers to find creatives, and for Kingston Creative to share information on jobs and other opportunities that are available.
You can find Elaine's Caribbean Crochet at the following link – https://www.caribbeancreativenetwork.org/profile/nikisha_toppin
We thank Kingston Creative for this amazing opportunity and look forward to connecting with creatives from around the Caribbean.