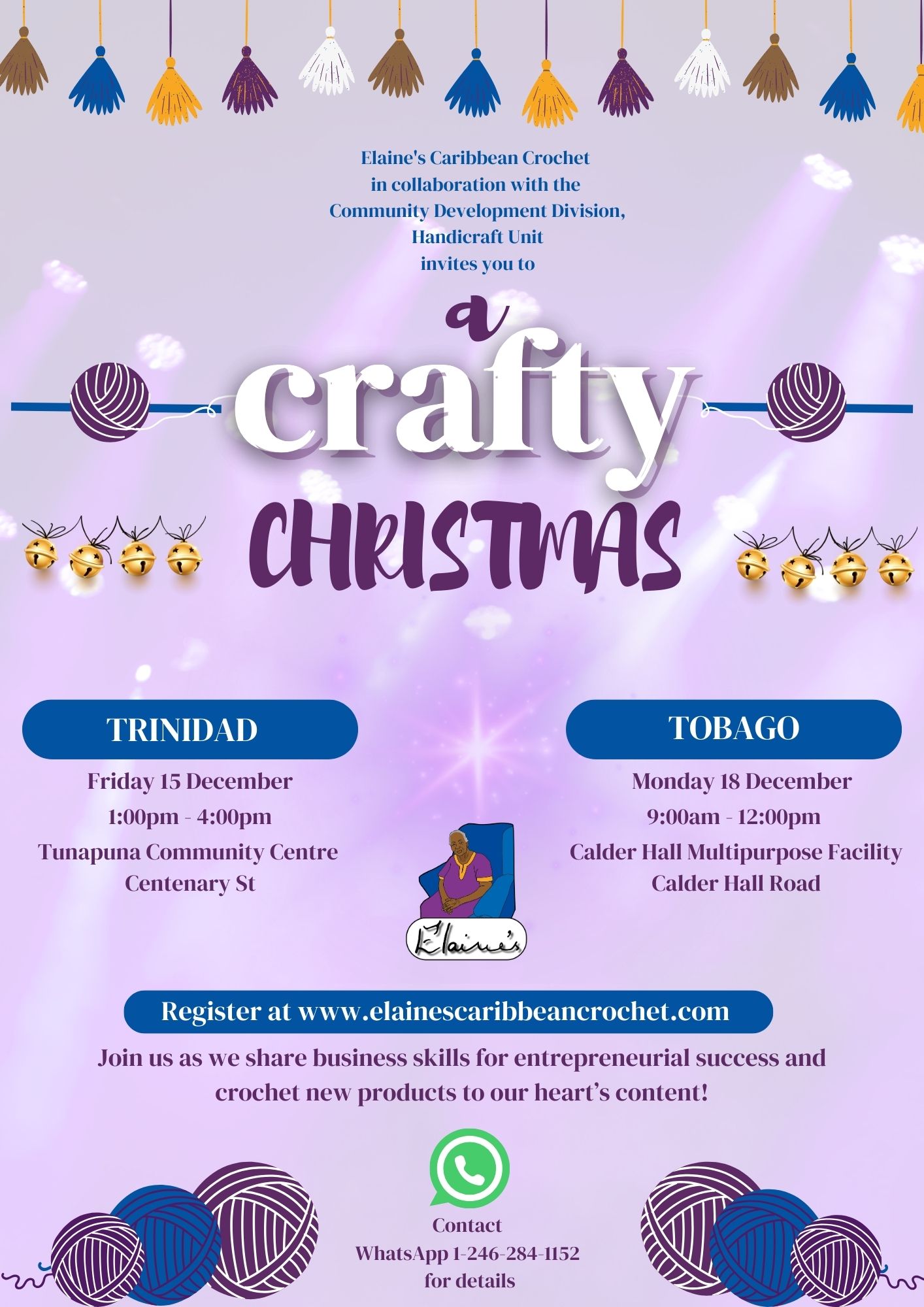 As the holiday season approaches, Elaine's Caribbean Crochet is delighted to announce,
"A Crafty Christmas," a special event designed to bring together crochet artisans for an afternoon of business skill development and creativity.  Scheduled for Friday, December 15, 2023, from 1:00 pm to 4:00 pm, at the Tunapuna Community Centre, the workshop aims to provide a platform for artisans to enhance their skills, learn new patterns, and, most importantly, connect with fellow members of the crochet community.
The program includes with presentations focused on business customization and specialization, allowing participants to refine their marketing strategies through the completion of informative handouts. These insights will be followed by a crafting exercise through the creation of various crochet projects. To facilitate a seamless experience, Elaine's Caribbean Crochet will provide yarn, crochet hooks, crochet patterns, and informative handouts. These resources aim to make A Crafty Christmas an inclusive event, welcoming participants of all skill levels.
"This program is a legacy to my grandmother, Handicraft Tutor Elaine Doyle, who would have received awards for her service.  A Crafty Christmas is about building connections and fostering a sense of community. We want to create a space where artisans can share their passion and learn from each other." says Nikisha Toppin, founder of Elaine's Caribbean Crochet.
She also expressed appreciation to the Ministry of Sport and Community Development for their support in the provision of the community centres for the organization of the activities.
A Crafty Christmas capitalizes on the success of a "A Christmas Celebration" held in December 2022, offering returning attendees the opportunity to deepen their skills and gain new patterns. Elaine's Caribbean Crochet invites all crochet artisans, both seasoned and beginners, to join in the Crafty Christmas festivities.
The workshop will also be held in Tobago on Monday 18 December at the Calder Hall Multipurpose Facility from 9:00am – 12:00pm.
These events are free, and interested participants are asked to register on Elaine's Caribbean Crochet website, www.elainescaribbeancrochet.com
TRINIDAD REGISTRATION FORM (Friday 15 December)
TOBAGO REGISTRATION FORM (Monday 18 December)