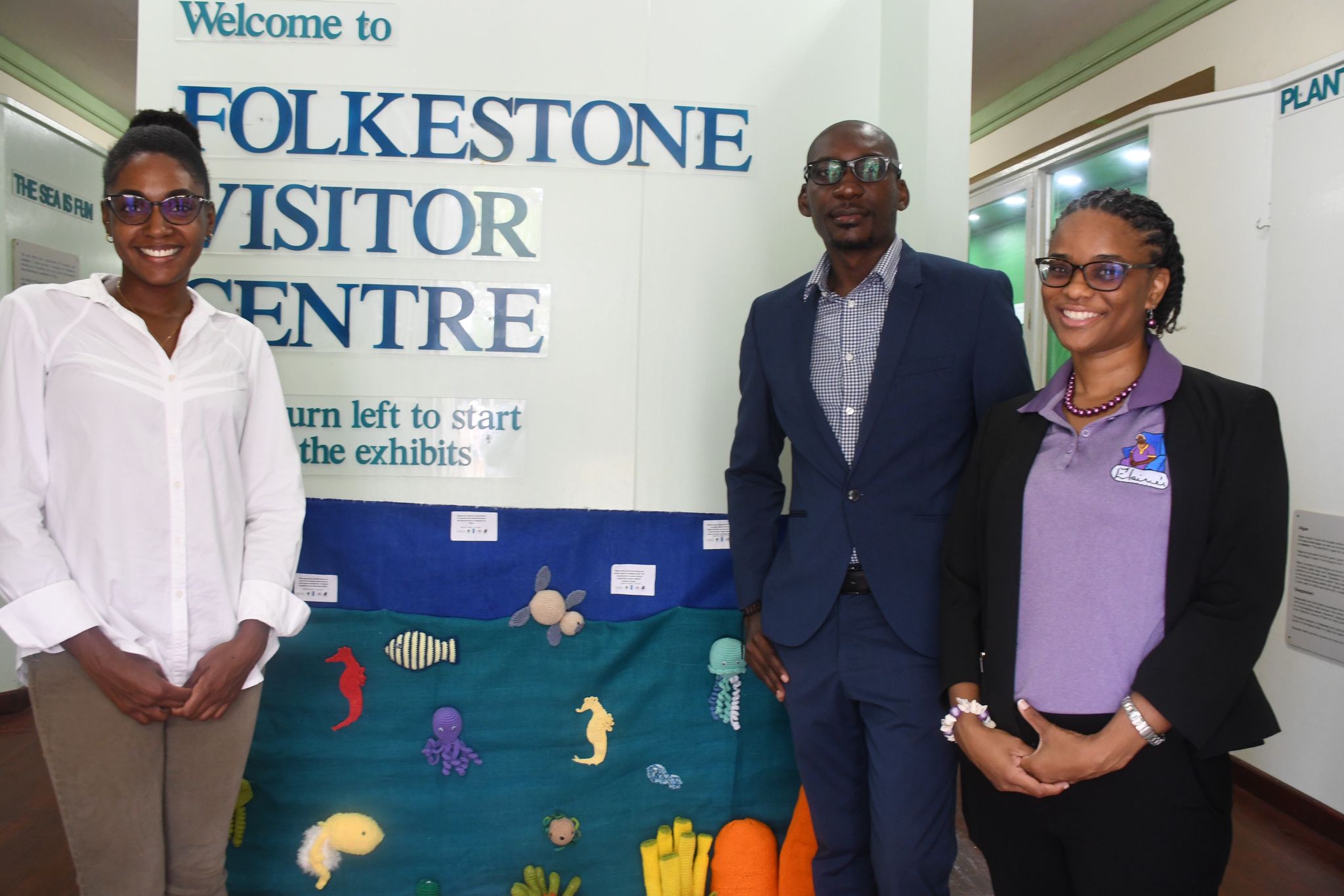 The Folkestone Marine Park & Museum has received a permanent collection of sea creature replicas from the "Crochet for a Cause: Ridge to Reef" Project of the Community Empowerment and Environment Partnership (CEEP).  Comprising of more than 100 handmade art pieces, the display features fish, turtles, jellyfish, crabs, seahorses, and a living, vibrant, protected coral reef, contrasted with a bleached coral reef.
The collection showcases the creativity of Barbadian crochet artists, promotes the arts and culture of the island to tourists, and adds to the information available about climate action, towards addressing the climate crisis.  The collection was donated by Elaine's Caribbean Crochet as a participant of the Small Grants Programme.
Global Environment Facility (GEF) Small Grants Programme (SGP) National Coordinator Dr. David Bynoe who visited the exhibit on the eve of World Earth Day stated, "It's very commendable how they were able to transform what can be an abstract concept of the coral reef to make it into something that is very tangible and practical that even a child can appreciate, identify with, and understand."  He expressed that the exhibit demonstrates the importance of taking care of the environment as it shows the correlation and relationship of the impact of climate change.
Manager of Folkestone Marine Park of the National Conservation Commission (NCC) of the Ministry of the Environment, National Beautification, and the Blue and Green Economies, Shari Samuel commented "The team at Folkestone Visitor Centre is grateful to have this new exhibit in our museum.  It really showcases what a healthy reef in Barbados could look like and all the animals that it could sustain. I also believe that it's good to have some artwork as well as a new addition to what we have on offer." The Folkestone Marine Park Museum receives visitors Monday through Friday from 9:00am to 5:00pm.
The Community Empowerment and Environment Partnership is a Global Environment Facility (GEF) Small Grants Programme (SGP) implemented by United Nations Development Programme (UNDP).  CEEP is organized in partnership with the Ministry of Youth, Sports and Community Empowerment, and Ministry of Environment and National Beautification, Blue and Green Economy.