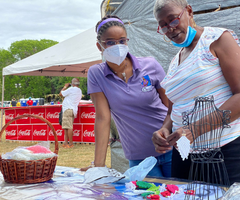 Elaine's Caribbean Crochet continues to work with crochet artists within Barbados by providing opportunities for female entrepreneurs to participate in flea markets and business expos.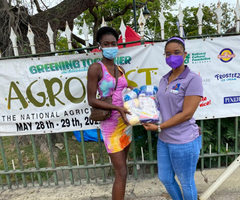 Nikisha Toppin with May You Prosper giveaway recipient at Agrofest
Elaine's invited Crochet Nooks By Anne for Agrofest 2022, which took place at Queen's Park, Bridgetown, St. Michael from Saturday, May 28 until Sunday, May 29.
Sybil of Crochet Nooks by Anne was grateful for the opportunity and expressed appreciation to Elaine's for extending the option to a fellow artist.
Elaine's also invited Chique Couture by Akilah to participate in the Business Expo Community Edition hosted by the Ministry of Energy and Business, in conjunction with the Barbados Trust Fund Limited (BTFL) on June 25 at Hoyte's Village.
Akilah was able to gain potential customers through her experience stating "I got persons who said they would contact to get stuff made."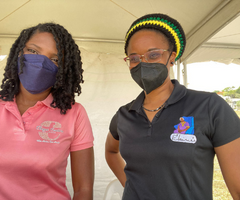 Nikisha Toppin with Akilah at the Business Expo
This opportunity was extended based on Elaine's membership with the Small Business Association of Barbados.