Elaine's Caribbean Crochet in collaboration with the Handicraft Unit of the Ministry of Community Development Trinidad and Tobago hosted its inaugural "Crochet for a Cause" workshop with artisans on Monday 19th December at the Community Development Training Centre, La Fantasie Road, St. Ann's.
The workshop, attended by 12 crocheters, focused on the creation of replicas of coral and animals found in the marine environment.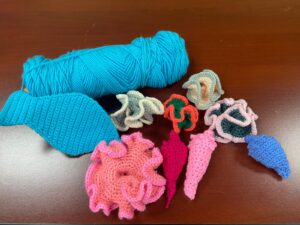 replicas of the land and sea environment in the artform of crochet
Handicraft Development Officer III (Ag.) Tracy Clarke "We are very privileged and fortunate to have this crochet workshop to share with you all some new ideas, given the changes we are having nationally, regionally, and internationally. We as crochet artisans are able to make our contribution to the climate change issue."
Community empowerment and environmental awareness were key aspects of the program to ensure female entrepreneurs received the skills and tools to enhance their businesses, while learning about protecting the environment.
Nikisha Toppin, Founder of Elaine's Caribbean Crochet advised "This activity is also a part of the continued tribute to Elaine Doyle, our social enterprise' namesake, who was a handicraft tutor with the Community Development Division.  Continuing her legacy of helping the handicraft industry in the country is both a privilege and an honour."
The workshop is a sub-activity of the Global Environment Facility (GEF) Small Grants Programme (SGP) implemented by United Nations Development Programme (UNDP) Community Empowerment and Environment Partnership (CEEP).
Elaine's Caribbean Crochet looks forward to continuing the legacy of love, community and success in the handicraft industry.